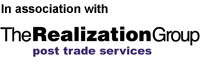 The Realization Group - Association
Focused exclusively on the Global Financial Markets sector, The Realization Group is a team of highly experienced marketing and business development practitioners providing an unparalleled depth of experience, subject matter expertise and insight.

The company was established to help our customers realise their potential through the delivery of high quality marketing-led business development services.

We understand the sector, its business processes and the complex technological infrastructure required to support operations.

This combined with our extensive network of key influencers, decision makers, journalists and commentators, places us in a unique position to help technology and service vendors to position their solutions appropriately with the firms.

Equally, we can help the firms themselves position their own products and services optimally within the competitive landscape.

Simply - whether a Financial Markets firm or vendor, we provide solutions that help our customers progress their business.


More information is available at
http://realizationgroup.com